Karel Schwarzenberg (1937-2023) passed away last weekend. We remember him as a passionate European with whom the Heinrich Böll Foundation has always been closely associated. We will miss his foresight, his judgment and his humor.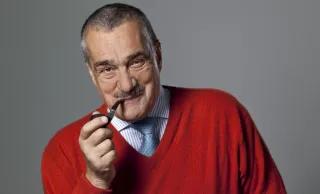 Mr. Schwarzenberg distinguished himself through his decades-long commitment to the protection of human rights in Czechoslovakia, the Czech Republic and worldwide, as did the writer and Nobel Prize winner Heinrich Böll.
Born in Prague in 1937, Mr. Schwarzenberg lived with his family in exile in Austria and Germany from 1948. After the suppression of the Prague Spring in August 1968, he supported dissidents in Central and Eastern Europe. In the 1980s, he founded the Czechoslovak Documentation Center as an archive for banned literature. Its collection is now part of the National Museum in Prague, Czech Republic.
As the first president of the International Helsinki Federation for Human Rights from 1984 to 1991, Mr. Schwarzenberg campaigned for respect for human rights at the international level.
After more than 40 years in exile, Mr. Schwarzenberg returned to Prague during the Velvet Revolution in the fall of 1989 and became director of the Office of Czechoslovak  President Václav Havel. He was elected Senator in 2004 and appointed Foreign Affairs Minister of the Czech Republic in 2007, nominated by the Green Party (Strana zelených). He later founded the center-right TOP 09 party, for which he again served as Foreign Affairs Minister from 2010 to 2013 and as a member of the lower house until 2021. In 2023, he became a foreign policy advisor to the newly-elected Czech President Petr Pavel, who awarded him the highest state honor, the Order of the White Lion, at the end of October 2023.
We will miss Mr. Schwarzenberg's foresight, his judgment, and his humor.
Berlin and Prague, November 16, 2023
Imme Scholz and Jan Philipp Albrecht, board members of the Heinrich Böll Foundation
Milan Horáček, founding member of the Heinrich Böll Foundation and first director of its office in Prague
Eva van de Rakt, Head of the European Union and North America Department at the Heinrich Böll Foundation
Adéla Jurečková, director of the Heinrich Böll Foundation office in Prague